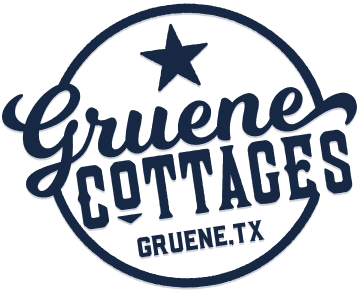 Terms & Conditions
DEPOSIT/BALANCE -The deposit for the 1st nights rate is due to confirm the reservation. The remaining balance is automatically processed to the card on file the day before your arrival date.
CHECK IN - Check-in is anytime after 3pm on your arrival date. No need to check-in at an office. Enjoy the convenience of going straight to your room. Each unit has a keyless entry. You will receive your keyless entry code in the reservation process. Check-out on departure date is 11:00am.
GUEST CONDUCT - This is Gruene, where being neighborly is standard conduct. So, to help define what "being neighborly" looks like, here are some guidelines: Don't use profanity. Respect others. Be kind. Keep the volume down. Don't drink too much. Think: would Mom be proud of what I'm doing?
SAFETY - Use common sense. If you use appliances, turn them off when finished. If you use a fireplace, always be aware of the size of the fire. Make sure the damper is open. When cooking with one of the grills, move out from under the trees.
SWIMMING POOL - Follow the posted rules. PLEASE don't take glass into the pool area (everyone thinks they won't drop the bottle, but someone usually does).
PARKING - Again, this is Gruene. Respect others. Don't block other cars and don't hog someone else's space.
PETS - No, please. Your pet may freak someone out or they may be allergic to dog hair, whatever. Your well-trained dog may think vacation is the one time they can poop on the floor...it happens.
FIREARM POLICY - No openly carried firearms.
SMOKING - Please don't. If you must, do it outside, away from others.
STUFF - If something is not working, let us know. We'll do our best to fix it immediately. If you have suggestions, let us know. We like to hear what you have to say. We've made some significant changes because of feedback.
CANCELLATION POLICY - This is a family business. We're all just trying to make a living. If we lose revenue for a night or two, it hurts. So if you let us know seven days in advance, we can probably re-rent the room. If you don't let us know seven days in advance, you pay for the night. We know things change that are beyond your control sometimes and are open to discussing it with you. If a cancellation does occur, there is a $25 cancellation fee.