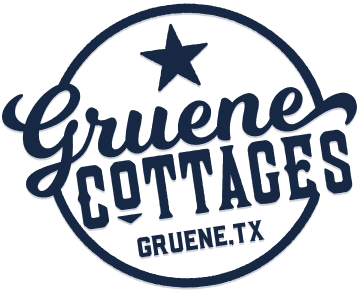 Gruene Cottages Specials
Gift Baskets can ordered through the Gruene Mansion Inn.
Texas Romance Basket: $69.00
Bottle of Wine, Wine Glasses
Crackers & Cheese
Chocolates & Seasonal Fruit

Honeymoon Basket: $45.00
A chilled bottle of champagne
A set of crystal champagne flutes
Chocolate covered strawberries

Guadalupe River Basket: $49.00
Sweet Leaf Tea or Soft Drinks
Gruene Mansion Bottled Water
Guadalupe River (Chocolate) Rocks
Luxury Wafers & Salty Snack Mix
Smoked Sausage

Spa Bath Basket: $55.00
Luxury Bubble Bath & Bath Sponge
Aromatherapy Body Lotion
Bath Pillow & Rubber Ducky

Customized Baskets:
Let us know the special things you want. Priced accordingly!
Estrogen Getaway
The girls' weekend away from routines and others' agendas. Enjoy Gruene's charm, lively music, food you don't have to cook, shopping, and a spa-terrific outing. Components...prices for one person. Here's what you get:

Two nights lodging (double occupancy) without an alarm
Lunch at the famous River House Tea Room
Dinner at the Gristmill Restaurant down the street
Massage, facial, and manicure at Gruene Day Spa
Time to talk, giggle and wiggle
For only: (When you book 14 days in advance)
$445 + Tax / person on weekends
$395 + Tax / person, Sunday through Thursday nights
Check out www.gruenedayspa.com for more spa services, including couples massages. Our customers have been pleased with the level of service provided by White Crane Massage and Spa.
Gift Certificates
Surprise and delight your family and friends with a Gift Certificate from Gruene Cottages! Select the number of nights for your Gift Certificate.

Prices range from $175 - $250 per night.
Purchase the gift certificate by phone or email with a MC, Visa or American Express number (with the expiration date, name on the card, and credit card billing address).
Information needed on the Gift Certificate:
Name of Recipient & Person Purchasing the Gift Certificate
We send the Gift Certificate (along with a Pedestrian Guide for Gruene) to you or directly to the Recipient.
The Recipient calls at their leisure to make the reservation.
Fly Fishing Special
Buy a Gruene Cottages room for two nights at regular price and receive a $50 gift certificate to Gruene Outfitters. While spending the $50 gift certificate, Gruene Outfitters can provide you with:
Information about guided fishing tours on the Guadalupe
An attractive inventory of quality fishing gear
Access to fly-fishing instruction
Unique outdoor apparel and gear
Conditions:
1. Offer valid for Sunday through Thursday nights only, January 3, 2012 through March 1, 2012.
2. AT THE TIME OF RESERVATION, mention that you are requesting the Fly-Fishing Special (no exceptions to this requirement).
3. This offer is not valid with any group stays or any other specials or offers.
4. This offer is good with any room.